You Are Snow White!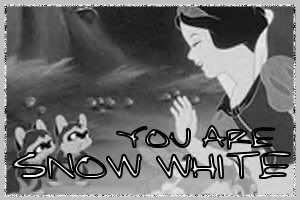 Pure and trusting. You are a gentle soul who can get along with just about anyone. Everyone you meet instantly falls in love with you. How can they resist? You have a pure, lovable nature that's irresistable. Just don't trust everyone who comes across your path.
Which Disney Princess Are You?
Alamak kena tag pulak ng fizah..first time nih, layan aje lah.yg peliknya aku rasa mmber2 aku yg buat ni termasuklah aku sumer kena snow white. snow white pun snow white lah..aku mmg suka snow...suka juge kaler putih :) betullah kot snow white hehe..